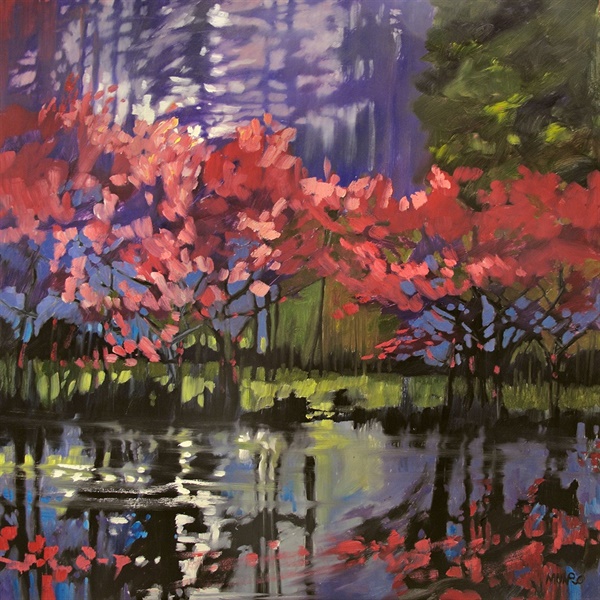 Resume
Education
1983 - Bachelor of Fine Arts, Wayne State University, Detroit, Michigan
1965-66, 1967-68 - Pratt Institute, Brooklyn, New York
Professional/Corporate Experience
1998-2009 - Director/Marketing Services, Lionel Trains LLC, Chesterfield, Michigan
1974-1998 - Manager/Graphic Services, Society of Manufacturing Engineers, Dearborn, Michigan
Solo Exhibitions
2019, Judy Munro: 2019 Studio Collection, Anton Art Center, Mount Clemens, Michigan
2016, Henry Ford Health System, Healing Arts Galleries, Detroit, Michigan
2015, Henry Ford Health System, Healing Arts Galleries, Detroit, Michigan
2014, City In Lights, River's Edge Gallery, Wyandotte, Michigan
2014, Michigan Landscapes and Urban Impressions, The Loft Fine Art, Clinton Twp., Michigan
2012, The Michigan 4, Huron Valley Council for the Arts, Highland, Michigan
2012, Connectivity, Michigan Women's Historical Center & Hall of Fame, Lansing, Michigan
2011, Arts for the Spirit Gallery, Dearborn, Michigan
2011, Faces and Places, The City Gallery, Mount Clemens, Michigan
2011, Face to Face, Huron Valley Council for the Arts, Highland, Michigan
2011, Artist of the Month, City of Sterling Heights Cultural Commission, Sterling Heights, Michigan
2011, Shiawassee Art Center, River Gallery, Owosso, Michigan
2011, Riverwalk Theatre, Lansing, Michigan
2010, Taubman South Gallery, Ann Arbor, Michigan
Group Exhibitions
2022, LaFontsee Galleries, Conceal/Reveal, Grand Rapids, Michigan
2022, LaFontsee Galleries, In Cahoots, Grand Rapids, Michigan
2021, LaFontsee Galleries, Liminal, Grand Rapids, Michigan
2021, Kresge Foundation, Art In The Office, Juried, Troy, Michigan
2020, LaFontsee Galleries, Solid Ground, Grand Rapids, Michigan
2020, Kresge Foundation, Art In The Office, Juried, Troy, Michigan
2019, LaFontsee Galleries, Eye Opener: Alternative Views of Summer, Grand Rapids, Michigan
2019, LaFontsee Galleries, Mix It Up, Grand Rapids, Michigan
2019, LaFontsee Galleries, Revive, Grand Rapids, Michigan
2019, LaFontsee Galleries, Hold Dear, Grand Rapids, Michigan
2019, Kresge Foundation, Art In The Office, Juried, Troy, Michigan
2018, LaFontsee Galleries, Coalesce, Grand Rapids, Michigan
2018, LaFontsee Galleries, Toast, Douglas, Michigan
2018, LaFontsee Galleries, Let's Jump In, Douglas, Michigan
2018, LaFontsee Galleries, Collective, Grand Rapids, Michigan
2018, Hudson Gallery, Live Love Alive, Sylvania, Ohio
2018, Kresge Foundation, Art In The Office, Juried, Troy, Michigan
2018, Beaumont Health System, Arts for the Spirit Program, Michigan
2017, LaFontsee Galleries, Perception and Intention, Grand Rapids, Michigan
2017, Beaumont Health System, Arts for the Spirit Program, Glass Hallway Gallery, Dearborn, Michigan
2017, Beaumont Health System, Arts for the Spirit Program, Glass Hallway Gallery, Taylor, Michigan
2017, LaFontsee Galleries, Everyone In The Pool, Douglas, Michigan
2017, LaFontsee Galleries, Freshly Considered, Grand Rapids, Michigan
2017, Anton Art Center, 44th Annual Michigan Exhibition, Juried, Mount Clemens, Michigan
2017, Kresge Foundation, Art In The Office, Juried, Troy, Michigan
2016, LaFontsee Galleries, Selected Works, Douglas, Michigan
2016, Grosse Pointe Art Center, Joy And Wonder, Juried, Grosse Pointe, Michigan
2016, Still Point Art Gallery, The River, stillpointartgallery.com
2016, LaFontsee Galleries, Everyone In The Pool, Grand Rapids, Michigan
2016, LaFontsee Galleries, Collective Alchemy, Grand Rapids, Michigan
2016, LaFontsee Galleries, Toast, Douglas, Michigan
2016, Kresge Foundation, Art In The Office, Juried, Troy, Michigan

2016, Anton Art Center, 43nd Annual Michigan Exhibition, Juried, Mount Clemens, Michigan

2015, LaFontsee Galleries, Let's Get Started, Grand Rapids, Michigan
2015, Studio 1219, Art of Our Women, Juried, Port Huron, Michigan
2015, Grosse Pointe Art Center, Our Rivers, Our Lakes, Juried, Grosse Pointe, Michigan
2015, LaFontsee Galleries, Look Out, Douglas, Michigan
2015, River's Edge Gallery, Let's Pretend, Wyandotte, Michigan
2015, Grosse Pointe Art Center, Faces and Figures, Juried, Grosse Pointe, Michigan
2015, LaFontsee Galleries, Lookie Here, Grand Rapids, Michigan
2015, Anton Art Center, 42nd Annual Michigan Exhibition, Juried, Mount Clemens, Michigan
2015, Studio 1219, Best of the Best, Juried, Port Huron, Michigan
2015, Grosse Pointe Art Center, City Life, Juried, Grosse Pointe, Michigan
2014, Studio 1219, Art of Our Women, Juried, Port Huron, Michigan
2014, LaFontsee Galleries, Urban/Rural, Michigan Outlook, Douglas, Michigan
2014, Paint Creek Center for the Arts, Members Biennial Exhibition, Juried, Rochester, Michigan
2014, 53rd Annual Greater Michigan Art Exhibition, Juried, Midland Center For the Arts, Midland, Michigan
2014, LaFontsee Galleries, Hop, Skip & A Jump, Douglas, Michigan
2014, Studio 1219, Color, Art Life and Love, Juried, Port Huron, Michigan
2014, LaFontsee Galleries, Out of the Polar Vortex, Grand Rapids, Michigan
2013, Hudson Gallery, Cool Yule, Sylvania, Ohio
2013, LaFontsee Galleries, Annual Fall Celebration, Grand Rapids, Michigan
2013, Anton Art Center, Art Party, Mount Clemens, Michigan
2013, New Work, LaFontsee Galleries, Douglas, Michigan
2013, Ann Arbor Painted, Ann Arbor Art Center, Ann Arbor, Michigan
2013, ArtPrize, Harris Building, Grand Rapids, Michigan
2013, Anton Art Center, The Portrait, Juried, Mount Clemens, Michigan
2013, River's Edge Gallery, Pure Genius, Invitational, Wyandotte, Michigan
2012, Holiday Show, Grand Gallery, Ada, Michigan
2012, Cool Yule, Hudson Gallery, Sylvania, Ohio
2012, Art For The Holidays, Juried, Detroit Artists Market, Detroit, Michigan
2012, Holiday Shop, Juried, Grosse Pointe Art Center, Grosse Pointe, Michigan
2012, Christmas Market, Juried, Anton Art Center, Mount Clemens, Michigan
2012, NOW WOW project, 2, Juried, Hudson Gallery, Sylvania, Ohio
2012, Our Rivers, Our Lakes, Juried, Grosse Pointe Art Center, Grosse Pointe, Michigan
2012, Members Biennial Exhibition, Juried, Paint Creek Center for the Arts, Rochester, Michigan
2012, Ongoing show, Cary Gallery, Rochester, Michigan
2012, This Just In, 3-Person Show, Hudson Gallery, Sylvania, Ohio
2012, Some Kind of Wonderful, 3-Person Show, Grand Gallery, Ada, Michigan
2012, 38th Annual Michigan Exhibition, Juried, Anton Art Center, Mount Clemens, Michigan
2012, All Member's Show, Orion Art Center, Lake Orion, Michigan
2011, Cool Yule, Hudson Gallery, Sylvania, Ohio
2011, 5th Annual Portraits and Pottery Show, Juried, Orion Art Center, Lake Orion, Michigan
2011, Two-person Exhibition, Healing Arts Galleries, West Bloomfield, Michigan
2011, Two-person Exhibition, Healing Arts Galleries, Macomb, Michigan
2010, 4th Annual Michigan Portraits & Pottery Show, Juried, Orion Art Center, Lake Orion, Michigan
2010, Our Town Art Show, Juried, The Community House, Birmingham, Michigan
2010, From Our Perspectives National Women's Art Exhibition, Juried, Oakland Community College, Farmington Hills, Michigan
2010, Our Rivers, Our Lakes Show, Juried, Grosse Pointe Art Center, Grosse Pointe, Michigan
2010, "Faces", Firebrick Gallery, Rochester, Michigan
2010, Members Biennial Exhibition, Juried, Paint Creek Center for the Arts, Rochester, Michigan
2010, 72nd Annual Member Show, Juried, Grosse Pointe Art Center, Grosse Pointe, Michigan
2010, All Media Exhibition, Juried, Detroit Artists Market, Detroit, Michigan
2010, Spring Show, Mid-Michigan Art Guild, Lansing, Michigan
2010, 36th Annual Michigan Exhibition, Juried, Anton Art Center, Mount Clemens, Michigan
2009, 49th Annual Greater Michigan Art Exhibition, Juried, Midland Center For the Arts, Midland, Michigan
1980, Art Is a Gift, Gallery 840, Juried, Detroit Michigan
1980, Artists We Have Known, Gallery 840, Juried, Detroit Michigan
1975, 39th Annual Midyear Show, Juried, Butler Institute of American Art, Youngstown, Ohio
1975, Michigan Art Festival, Livonia, Michigan
1972, Michigan Art Festival, Livonia, Michigan
1971, Michigan Art Festival, Livonia, Michigan
1970, 10th Annual Huntington Woods Art Fair, Huntington Woods, Michigan
Awards
2016, 2nd Place, Grosse Pointe Art Center, Joy And Wonder, Juried, Grosse Pointe, Michigan

2016, Best Portfolio, Still Point Art Gallery, The River, stillpointartgallery.com

2015, 2nd Place, Faces and Figures, Grosse Pointe, Michigan
2015, 3rd Place, City Life, Grosse Pointe, Michigan
2014, People's Choice Award, Art Of Our Women, Port Huron, Michigan
2014, 2nd Place, Color, Art Life and Love, Port Huron, Michigan
2012, 3rd Place, 38th Annual Michigan Exhibition, Mount Clemens, MI
1975, First Place, Michigan Art Festival, Livonia, MI
1972, Special Award, Michigan Art Festival, Livonia, MI
1972, Special Award, Michigan Art Festival, Livonia, MI
1971, 2nd Place, Michigan Art Festival, Livonia, MI
Selected Corporate Collections
Personalized Lifecycle Management, New Jersey
Kresge Foundation, Michigan
Raymond James & Associates, Wisconsin

Beaumont Hospital, Royal Oak, Michigan

Henry Ford Health System, Main Campus, Detroit, Michigan
Board of Registration for Professional Engineers, Sacramento, California
Henry Ford Health System, Macomb, Michigan
St. Johns Cancer Treatment Center, Rochester Hills, Michigan
First Martin Corporation, Ann Arbor, Michigan
The Huntsman Hunt Club, Dryden, Michigan
Oakwood Healthcare. Inc. Dearborn, Michigan
St. Joseph Mercy Hospital, Port Huron, Michigan
Crittenton Hospital Medical Center, Rochester, Michigan
Publications
Skimmons, Joan. "River's End Gallery Presents Featured Artist Judy Munro". Exclusively Yours, June 2019.
Bechini, Holly. "Ministry of the maker: Why we all need more beauty in our lives". Cultured.GR, March 11, 2017.
LaFerle, Cindy. "Art For The Soul". Michigan Prime, October 11, 2013.
McCartney, John P. "Three local artists featured at Hudson Gallery". Toledo Free Press, April 24, 2012.
Eyes On: Landscapes. Manhattan Beach, California: Blaze Hill Press, Hardcover, 2012.
Hodges, Michael. "Shaken and Stirred". Detroit News, February 16, 2012.
Caprara, Bonnie. "Artist re-emerges after life in corporate world". Oakland Press, April 21, 2011.
York, Sally. "SAC looks toward spring". Argus-Press, March 1, 2011.
Casey, Cortney. "Michigan memories motivate artist in second stage of career". Sterling Heights Sentry, January 19, 2011.